Are you a budding writer or want to enter authorship? Publishing your eBook on Amazon can help your dreams come true. But, do you know how to publish an eBook on amazon? This guide will take you step-by-step through getting your eBook ready for sale on Amazon. Creating an Amazon account, determining the right format, meeting image requirements, and setting pricing and royalty options – this will take an entire process to publish your own eBook on Amazon.
So, ready to get your book out there? Let's begin!
How to Publish an eBook On Amazon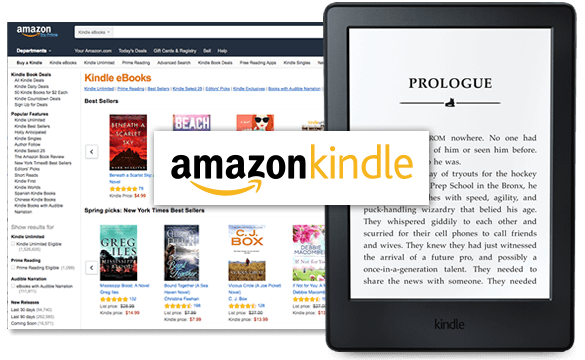 If you want to learn how to publish an eBook on Amazon and share your creative work and make money by self-publishing an eBook, Amazon might be the right choice for you! Publishing an eBook with Amazon is easy, and can you can do it by following just a few steps. First, you need to create a free account with Amazon Kindle Direct Publishing (KDP). if you are having trouble with publishing then you can also take book publishing services.
Once your signup is done start the process of uploading your eBook. You will be asked to provide details such as title, author name, language, and format. You will also need to select the publishing rights for the eBook and set the price. Finally, you will have the chance to upload your book's description and cover. Once you have completed all the necessary steps, you can use the KDP tools to preview your eBook and make any necessary changes before you publish it for the world to see. With Amazon's help, publishing your work can be a breeze!
Creating an Amazon Account
Whether you're a seasoned author who's published paper books or you are taken affordable ghostwriting services in the past or are a first-time self-publisher, you will have to create an Amazon account to get your eBook onto the platform. The process is quick and easy and only takes a few minutes.
First, head to www.amazon.com and click the 'Create your Amazon account' button. You'll be prompted to enter your name and email and create a password. Once you've completed the form, click 'Create your Amazon account' to proceed.
Next, you have to enter your billing address and mobile number. Although these fields are compulsory, you don't need to worry if you don't want to provide your address or mobile number. Amazon allows you to use a virtual address and phone number, which you can use instead.
Once all the required fields are filled in, you can finally click 'Create your Amazon account' You'll be taken to your Amazon dashboard. Congratulations! You now have an account with Amazon, and you can begin publishing your eBook.
Step 1: Log into Your KDP Account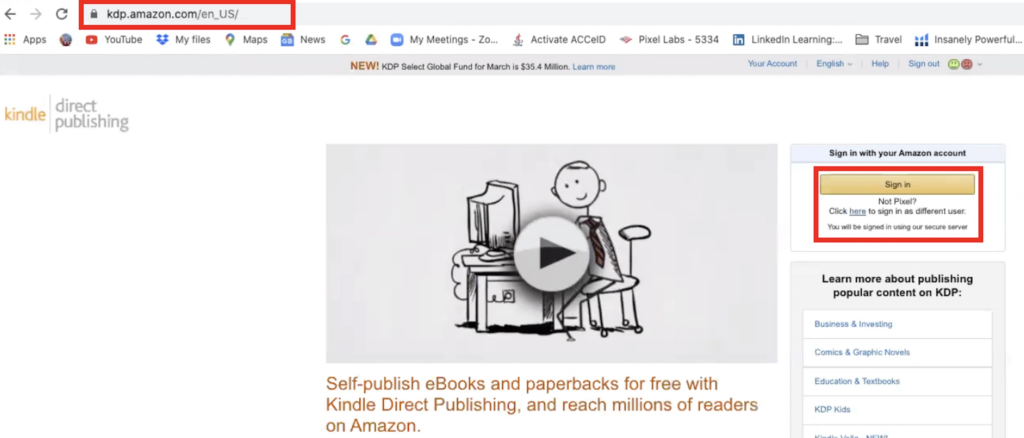 The first step is logging into your KDP (Kindle Direct Publishing) account. To do this, go to Amazon.com/KDP, and click the 'Sign In' button in the top right. Enter your Amazon credentials, and now get ready to start publishing your eBook!
Step 2: Enter Book Details
Once you have decided on your book title, cover, and description, it's time to enter the book details on Amazon. This step is crucial as it will determine how your book appears and is found by readers.
To enter book details, log in to your Amazon Kindle Direct Publishing account and click on your book. Here, you have to enter information about your book, including genre, publisher, series, edition, and keywords.
Be sure to include the keywords in the details to ensure potential readers can find your book. You can also choose to make the book available in Kindle Unlimited, allowing access to a wider readership.
Step 3: Upload eBook Manuscript and Cover Image
Step 3 of publishing your eBook on Amazon is to upload your manuscript and cover image. This part of the process is easy and straightforward. You need to navigate the 'Upload Content' section of the Kindle Direct Publishing dashboard, select your manuscript file, and upload it. Once uploaded, you can then upload your book's cover image. It is important that you ensure the image is of high quality and that it meets Amazon's standards and guidelines. You can move to the next step with the manuscript and cover image uploaded and approved.
Step 4: Set eBook Pricing and Royalty Options
Step 4 of publishing an eBook on Amazon is important – setting the pricing and royalty options. This allows you to determine how much you'll be earning off each sale of your book. You can set the price of your book's cost and choose to set a royalty rate between 35% and 70%. After choosing, you can adjust the royalty rate by currency and country. Doing so will help ensure you get the best return on your eBook's sale.
Step 5: Publish Your eBook.
The final step in the journey to success as an author is to publish your eBook on Amazon. Now that you've worked hard to create and format your masterpiece, you can share it with the world! Amazon provides an easy-to-use self-publishing dashboard to get your book out quickly and without hassle. All you need to submit is your manuscript and cover set your pricing and promotional options, and click 'Publish.' Congratulations, your eBook is now available for sale on Amazon!
Conclusion
Congratulations! You have taken the first steps towards becoming a published author and successfully published your eBook on Amazon. You can join the content revolution and share your stories, skills, and talents. It is not easy to become an author, but it doesn't have to be overwhelming or daunting. You can successfully publish an eBook on Amazon with the right guidance and now you8 have clearly learned how to publish an eBook on Amazon and you're one step closer to achieving your writing dreams. So, what's next? It's time to promote your eBook and spread the word about your creation. Now you can share your book with the world and reap the rewards of your hard work.